A Winters tale
ITV Weather Presenter
19 Dec 2019
Despite the job I do, it still seems to creep up on me every year. Just as quickly as the leaves change colour and fall from the trees, the season has shifted and Winter is upon us.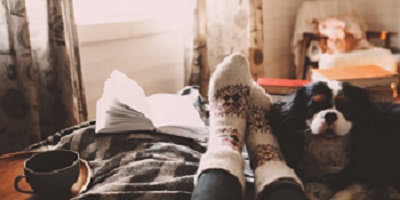 I call it 'the winter wardrobe swap' - sunglasses for woolly hat, suncream for ice scraper, flip-flops for wellies etc. My home is now my favourite place in the winter, looking forward to evenings in snuggling up on the sofa by the fire. I am like my Gran used to be – prepared for everything I could possibly need in any emergency - and this now extends to my home during the winter months. Click here for more information on protecting your home this winter.

Despite the challenges the weather can bring to home and travel, I really do love this time of year. As the temperatures dip and the heating goes up it's a perfect excuse to bunker down with family and friends and prepare for Christmas. And this year it's going to be one to remember - hopefully for all the right reasons - as it's Christmas at mine for the first time.
I recently bought my own place and, as many of you will know, this comes with its challenges. Thankfully I didn't have to worry about the loft insulation as it was already done but after this year's warm Summer - and therefore a fairly long break from using any additional heating - I made sure the boiler got serviced before the frosty nights kicked in.
It's always a good idea run through a home check, lots of warm clothes, water pipes in cold places insulated, the food cupboard well stocked, salt for the drive and of course checking on my friends and family to make sure they're all set up for winter. I love the cold weather - there's nothing better than a blue sky morning with frost in the air and a walk in the local park - but I need a warm house to come back to….and a lovely hot cup of tea!

So, I've been busy doing up the house in time for the festive season. My dad hates DIY, I have literally had to beg him to help me pull off tiles and put up mirrors, drill holes for curtain rails and bring his 'painting clothes' over. But he is most useful when it comes to practicalities….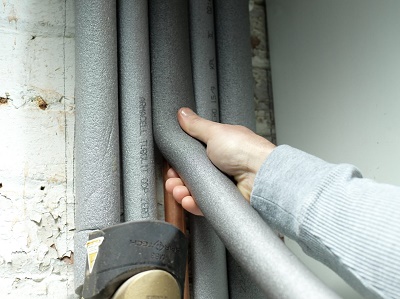 The first thing he did when I got the house was go through each room feeling every radiator. And something I would never have noticed, or even thought of, was the that the insulation on my outside pipes needed attention. The house is old, the pipes ignored, the insulation more than weathered!
Amongst all the excitement in the run up to Christmas I am still reminded that it's not a fun time for everyone. Winter weather is not the best for the vulnerable and elderly, and Christmas time can trigger feelings of loss and loneliness. This year, we as family, will be making sure we spend additional time with my wonderful 'Geordie Nan', who celebrated her one hundredth birthday this year. She is an absolute gem, still living independently, but needing bit of extra TLC now.
With all the mayhem of decor, presents, food and work Christmas parties it's not always possible to spend time with friends as well. But every year, in between Christmas and New Year, I always try and squeeze a day's walk in around the local reservoir with two of my friends. It's become an annual thing now. I have some amazing memories from our past walks, some long chats, great photos, and it's so good to work off a bit of the yuletide excess before the New Year celebrations take hold.
So, I'm ready for my first Christmas in the house, . And I cannot wait!
I'm just not sure if the turkey will fit in the oven.... errrr "DAD....." x
Protect your home from the cold
ITV weather's Jo Blythe gives us top tips on how to prepare for winter.
Cold weather advice