Climate change mitigation
There is global scientific agreement that as a result of human activity the amount of greenhouse gases (GHGs) in the atmosphere is increasing and affecting the global climate. Therefore minimizing the GHGs emitted as a result of our operations and taking action to remove emissions from the atmosphere will mitigate climate change.
Our climate change mitigation strategy
Great carbon management is more than just a number and our climate change mitigation strategy is more than just an emissions target. We have four themes: vision and visibility; ambition and commitment; demonstrating action; and beyond here and now all vital to our intention to transition to a low carbon future.
Vision and visibility
We already have a strong track record of sustainability reporting and disclosure, having measured and reported our GHG emissions for nearly 20 years. We're also committed to reporting our impact in the most transparent and robust way possible. Our measurement and reporting is aligned to the GHG Protocol Corporate Accounting and Reporting Standard (2015) and the recommendations of the Taskforce for Climate-related Financial Disclosures (TCFD). We publish our emissions in our annual report as required under the Companies Act 2006 (Strategic Report and Directors' Reports) Regulations and follow the 2019 UK Government Environmental Reporting Guidelines: Including streamlined energy and carbon reporting guidance.
Since 2007, our greenhouse gas inventory has undergone independent, third-party verification by Achilles Information Limited that our reporting is compliant with the international carbon reporting standard (ISO 14064, Part 1). The reporting is assured by the Reduce Carbon programme previously known as Certified Emissions Measurement and Reduction Scheme (CEMARS). Our most recent certificate is available here (Carbon reduce certificate (PDF 480KB opens in new window) (Independent assurance statement (PDF 148KB opens in new window).
We are dedicated to understanding how every aspect of our operations contributes to our emissions we are working to ensure we consider the climate in all our operational and strategic decision making.
Ambition and commitment;
An important element of our approach is to demonstrate our ambition and encourage others to contribute by making public commitments. We joined the global movement of 'Business Ambition for 1.5°C: Our Only Future', with a commitment to setting science-based targets aligned with the climate science to limit global temperature rise to 1.5°C above pre-industrial levels. We are signatories to the UN Race to Zero campaign and are proud to be contributing to the UK water industry's commitment to be net zero from 2030.
In 2020 we made six carbon pledges as part of our commitment to tackling climate change. Central to these was to set science-based targets for all emission scopes. United Utilities is proud that these targets have been approved by the Science Based Targets initiative (SBTi) a collaboration that defines and promotes global best practice in science-based target setting and that we are the first UK water company to have done so.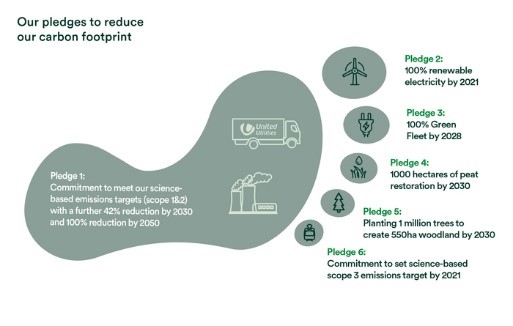 Demonstrating action
We have demonstrated our capability to reduce our greenhouse gas emissions having reduced them by over 70 per cent since 2005/6 largely from working to balance our energy consumption, self-generation and being smart about how we operate our assets to get best value while maintaining security of supply. In 2020/21 we generated the equivalent of 205 GWh of renewable electricity from a mix of generation from wind, hydro, solar photovoltaics and energy recovery from bio resources (using sewage sludge to power combined heat and power generators). Between self generated power and purchased electricity from October 2021 100 per cent of the electricity we use will be from renewable technologies.
We are also working towards meeting our other carbon pledges. We are trialling alternative fuels to replace fossil fuels used in our treatment processes and for transport and have projects underway to restore peatland and plant new woodlands which will have a net GHG emission reduction. To address our scope 3 targets we are already working with suppliers such as Sapphire Utility Solutions to reduce emissions from their fleet as they carry our maintenance on our network and with Changemaker 3D on making made-to-measure objects out of sustainable concrete on site through 3D printing.
Beyond here and now
We are not only concerned with things we can do now to reduce our reportable emissions. Our strategic theme of beyond here and now is to remind us that we should be looking to influence emissions beyond here regardless of whether those emissions are part of our inventory for instance we are investigating what operational interventions we can make to reduce process emissions before this is incorporated into the industry standard methodology to estimate emissions. We are also looking beyond now into the future as we explore opportunities and innovate across processes, technology, standards and culture.