Meet Erin, Apprentice Data Administrator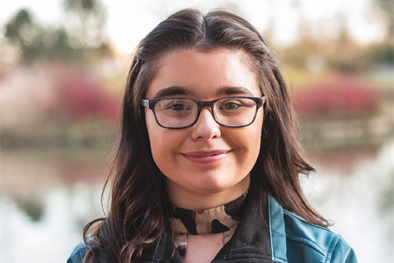 My name is Erin Thompson, I am 22 from Warrington. Currently, I'm a Data Administrator Apprentice with United Utilities.
When I left school I went to college for two years studying level 2 and 3 Beauty Therapy and level 3 Nails. Then I went on to get part-time work in various salons, restaurants and completed an Interserve learning course. For a while I was out of work before I took the opportunity to join United Utilities on the youth programme. If it wasn't for the opportunity that United Utilities gave me I wouldn't be where I am today.
On the graduation day I got excellent feedback from my placement at Stantec, but unfortunately I didn't get offered a job at the time because they didn't have any vacancies. However, from networking, I met my current manager and was offered a three month contract, which got extended, and allowed me to progress onto the apprentice scheme.
United Utilities has genuinely changed my life. It has helped me progress by giving me new opportunities to learn and challenge myself, alongside developing my skills and confidence.
I have learned a lot of unique skills from working in different departments such as building SharePoint sites, Microsoft skills, new communication skills, taking calls and helping with events. For example, I have led an awareness day for dyslexia within the organisation and had the opportunity to interview Louise Beardmore, Customer Services and People Director, as part of the awareness raising. To this day other employees still get in touch to get help. I am on track with my college milestones and continue to receive excellent feedback. I am proud to have demonstrated my hard work, commitment and teamwork. Being at United Utilities has pushed me out of my comfort zone and helped me grow as a person.
My aspiration is to use my apprenticeship to move around the business, taking the opportunity to work in as many different departments as possible and attend training courses to further develop my skills. After my apprenticeship I would like to go into a full time role, or continue onto further training with the possibility of working in a management role.
My confidence has grown a lot because I now know that I can push myself and take on new challenges. For example, I was previously very daunted about presenting in front of other colleagues. However, by practicing presenting to people in work I now feel comfortable presenting and now do it regularly in college. I have also taken part in a film project to raise awareness around dyslexia and promoted the United Utilities youth programme.
I am proud to share my journey since I started in April 2018 and how the opportunities at United Utilities have helped me get where I am today.