Safety equipment installed at Audenshaw reservoir following tragic death, but the message remains "Don't enter the water"
22 Jul 2022
The mum of a 20-year-old who drowned in Audenshaw reservoir has led a campaign to raise funds for safety equipment at the site and she is working with United Utilities and the fire service to highlight the dangers of entering the water.
Dwayne Thompson died at the Greater Manchester site in June 2018, and his mum, Amanda Thompson, has been speaking out about the importance of water safety ever since in a bid to prevent further tragedies.
Now she has raised enough money for life rings to be fitted around the banks of the reservoir.
Site owner United Utilities has installed the new equipment, but warns that the reservoir is not open to public access and urges people not to enter the water.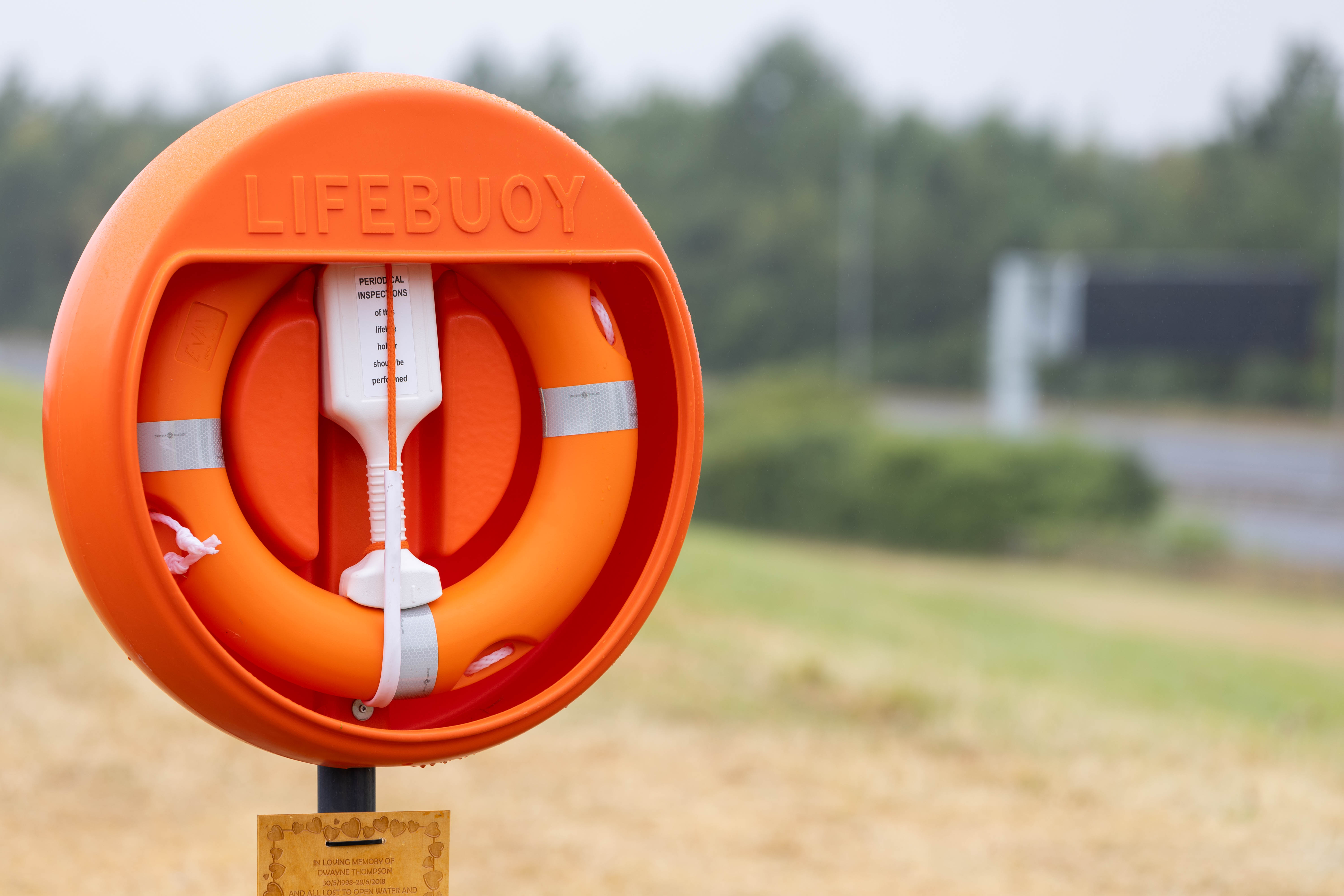 Sian Corr, Lead Health & Safety Business Partner at United Utilities, said: "Reservoirs are incredibly dangerous and people should not enter the water, but sadly, people ignore the warnings and in tragic cases lose their lives.
"We're grateful to Mrs Thompson for helping to spread water safety messages and for raising the money for this equipment.
"The water may look refreshing on a hot summer's day, but it is deceptively cold. Even in the summer the water will rarely get above 11°C – colder than the water that comes out of your cold tap. Even strong swimmers will struggle to keep their heads above water, your body can go into shock, your heart will be working over-time to pump blood to your internal organs, and you'll lose control of your muscles."
Amanda Thompson said: "My son came here for the first time in June 2018 and little did he know it would be his last. I can't bring Dwayne back, but it's about lives we can save.
"I want to make people aware of the dangers, and I don't want anyone else to go through what we have.
"I'd say to people - please, don't risk your life. Don't go in the water."
Station Manager at Greater Manchester Fire and Rescue Service, Dan Wade, said: "Tragically we see incidents of accidental drownings when the weather is warmer, as people attempt to cool off in open water.
"Our message is to never jump into any open water or swim in open water where it is not an organised event – it may be warm outside, but the water is not. Cold Water Shock can kill even strong swimmers and you also don't know what dangers are lurking beneath the surface which can cause drowning."
It is hoped the life-saving equipment is never needed, and United Utilities, GMFRS and Mrs Thompson are also having to remind people not to remove or damage it.
Sian explained: "Unfortunately the posts that were installed to house the equipment were vandalised almost immediately, and in the past week we've seen one of the life rings being removed, and a throw line vandalised too.
"This kind of behaviour is incredibly disappointing, and yet another example of the disregard that some people show for their own and other people's safety.
"Reservoirs are often remote, so having a life ring or throw rope available could make all the difference in an emergency, but the bottom line remains the same - don't enter the water – it's not worth the risk."
Amanda added: "We raised the money for the rings as they're quicker for someone to throw while someone else is phoning for help.
"Please don't damage our life-saving equipment, because when you need it it's not going to be there. Potentially that could cost someone their life."
United Utilities is responsible for 150 reservoirs across the North West. Some sites are open for walking and cycling, but none allow swimming due to the dangers of the deep, cold water.
Machinery installed by United Utilities at the bottom of the reservoir to pump water adds other danger to swimmers by creating a strong current, while the steep sides and sudden drops can be hazardous for anyone trying to get out.
According to the Royal Life Saving Society UK, accidental drowning kills around 400 people in the UK and Ireland each year, with about 44% happening between May and August.
United Utilities has also launched a reservoir safety educational pack for teachers and parents, designed to help them learn about the dangerous of reservoir swimming in an interactive and engaging way.
To download the pack and find out more go to: https://www.unitedutilities.com/about-us/acres-of-nature/reservoir-safety/.