By John Martin @UUJohnMartin
The North West's only FTSE100 company is looking to recruit over 50 apprentices to join its award winning apprenticeship scheme.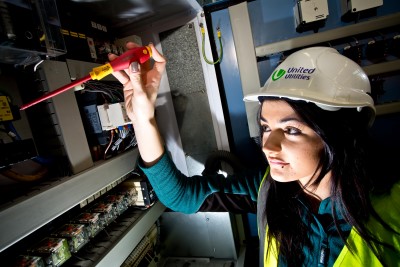 Water firm United Utilities is recognised as one of the top employers of apprentices in the UK has launched its biggest annual search for new talented scientific, technical and customer service recruits.
Jacqueline Kawczak apprentice framework specialist at United Utilities said, "We offer an award-winning apprenticeship scheme and are a company with no barriers when it comes to getting to the very top."
"Last year 42 of our fantastic apprentices came off the scheme and secured roles within the business."
Apprenticeships offer an attractive alternative to university, allowing young people to earn while they learn.
"We spend a lot of time investing in our apprentices and their development, to make sure they gain valuable skills and real qualification," added Jacqueline.
Current United Utilities IT Technical Apprentice Calvin Woods said, "The amount of opportunities we are granted to see different areas of the business and get involved in activities that you normally wouldn't necessarily get in a regular job is nothing short of brilliant."
The closing date for applications is Friday, March 18.
For more information visit www.unitedutilities.com/apprenticeships where you can also find details of the roles on offer.