Last updated: October 2021

About us
United Utilities is listed on the London Stock Exchange, and provides water and wastewater services to around seven million people and businesses in the North West of England.
Shares also trade over the counter in the USA in the form of American depositary receipts (ADRs). Each ADR represents two ordinary shares.
Shares in issue: c682 million (100% free float)
Our investment proposition
Our purpose is why we exist
To provide great water and more for the North West
We have a clear vision of what we want to achieve
To be the best UK water and wastewater company
Our purpose and vision motivate us to improve our services and deliver more
Defining the way we operate are three strategic themes; the best service to customers, at the lowest sustainable cost, in a responsible manner
These themes define the way we operate so we can deliver our purpose and work towards our vision
Why invest in United Utilities?
Management team with extensive commercial, operational and regulatory experience
Track record of regulatory outperformance: exceeded both our 2010-15 and 2015-20 targets
Wholesale revenue and asset based linked to CPIH inflation through to at least 2025
Clarity on allowed returns through to 2025
Systems Thinking approach is the most sophisticated in the sector and provides a real competitive advantage
Sustainable improvement in operational performance and customer service
Low cost of debt locked in and robust capital structure with a stable A3 rating
Our performance in 2020/21
Achieved a £21 million net customer ODI reward for 2020/21
Met or exceeded over 80 per cent of performance commitments in areas that customers value most.
Our AMP7 totex plans will be extended by £300 million, with plans to accelerate our digital transformation, extend our environmental programme and exploit spend to save opportunities.
Took swift proactive action to secure an additional £15 million to help customers whose incomes had been affected by COVID-19.
Accelerated payments of the £71 million financial support we committed to provide over AMP7, providing much needed assistance to struggling families.
Now supporting around 200,000 customers through our extensive range of support schemes.
Met our leakage target for the 15th consecutive year, and we are now at the lowest ever level reported in the North West.
Delivered zero serious pollution incidents for the second year running, and around one third reduction in pollution overall.
Progressing well with our six carbon pledges, including the use of science-based targets to reduce our carbon footprint.
Committed to the sector's net zero carbon pledge by 2030, and became a proud signatory to the UN Race to Zero campaign.
Published our new sustainable finance framework, allowing us to raise finance based on our strong ESG credentials, and subsequently issued our debut sustainable bond.
Attained World Class rating in Dow Jones Sustainability Index for the 14th consecutive year.
Successfully launched our new responsible approach to supply chain management for AMP7 called United Supply Chain (USC), recognising suppliers as an extension of the United Utilities family.
Ranked as leading water utility in the Sustainalytics' ESG Risk Rating assessment
Our financial highlights
Year ended 31 March

2021

£m

2020

£m

2019

£m

2018

£m

2017

£m

2016

£m

Revenue

1,808.0

1,859.3

1,818.5

1,735.8

1,704.0

1,730.0

Reported operating profit

602.1

630.3

634.9

636.4

605.5

567.9

Underlying operating profit(1)

602.1

732.1

684.8

645.1

622.9

604.1

Reported profit before tax

551.0

303.2

436.2

432.1

442.4

353.5

Underlying profit before tax(1)

460.0

534.8

460.3

370.2

389.4

408.1

Reported profit after taxation

453.4

106.8

363.4

354.6

433.9

397.5

Underlying profit after tax

383.0

486.3

407.9

304.9

313.4

325.3

Reported (basic) earnings per share (pence)

66.5p

15.7p

53.3p

52.0p

63.6p

58.3p

Underlying earnings per share (pence)(1)

56.2p

71.3p

59.8p

44.7p

46.0p

47.7p

Dividend per ordinary share(2) (pence)

43.24p

42.60p

41.28p

39.73p

38.87p

38.45p
(1) During the year ended 31 March 2021, we simplified our approach to alternative performance measures and have removed a number of adjustments previously made. More detail can be found in our full year results announcement for the year ended 31 March 2021.
(2) Dividend yield of 4.67%, based on closing share price on 31/03/2021 of 925.8p.
As at 31 March

2021

£m

2020

£m

2019

£m

2018

£m

2017

£m

2016

£m

Non-current assets

13,166.2

13,215.7

12,466.4

11,853.6

11,768.2

11,280.8

Current assets

1,012.9

828.4

721.4

1,149.9

657.9

626.0

Total assets

14,179.1

14,044.1

13,187.8

13,003.5

12,426.1

11,906.8

Non-current liabilities

(10,152.6)

(9,877.3)

(9,025.0)

(8,911.1)

(8,914.7)

(8,357.1)

Current liabilities

(995.5)

(1,204.7)

(1,052.0)

(1,141.5)

(689.8)

(844.2)

Total liabilities

(11,148.1)

(11,082.0)

(10,077.0)

(10,052.6)

(9,604.5)

(9,201.3)

Total net assets and shareholders' equity

3,031.0

2,962.1

3,110.8

2,950.9

2,821.6

2,705.5

Net debt

7,305.8

7,361.4

7,067.3

6,867.8

6,578.7

6,260.5

RCV gearing(3) (%)

62%

61%

61%

61%

61%

61%
(3) Regulatory capital value (RCV) gearing is calculated as group net debt divided by the RCV (expressed in out-turn prices) of United Utilities Water Limited.
Year ended 31 March

2021

£m

2020

£m

2019

£m

2018

£m

2017

£m

2016

£m

Net cash generated from operating activities

859.4

810.3

832.3

815.6

820.8

685.6

Net cash used in investing activities

(549.3)

(593.9)

(627.7)

(723.2)

(804.6)

(676.8)

Net cash (used in)/generated from financing activities

(89.7)

(27.8)

(377.4)

184.7

22.0

(46.4)

Net increase/(decrease) in cash and cash equivalents

220.4

188.6

(172.8)

277.1

38.2

(37.6)
Economic regulation
Economic regulation is the responsibility of an independent body, Ofwat, whose primary duties are to protect the interests of consumers, to ensure that companies properly carry out and can finance their functions and to secure the long-term resilience of water and sewerage systems.
As part of its periodic review, Ofwat sets the prices each company can charge their customers across the period. Typical household bills are shown on the chart below.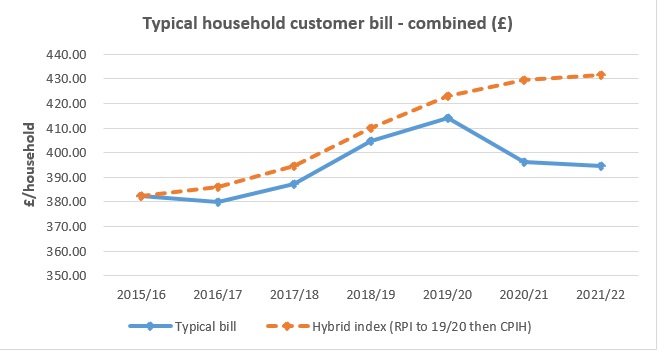 Capital investment
Capital investment of more than £2bn across the 2020-25 period and is anticipated to remain high beyond 2025, as we continue to:
Upgrade our water and wastewater networks;
Maintain our ageing assets;
Deliver a cleaner environment;
Provide high quality water to our customers; and
Improve our customers' experience.
Growth in RCV
Attractive growth since privatisation.
For more information please contact
Robert Lee, Head of Investor Relations, robert.lee@uuplc.co.uk, T +44 (0) 7500 087 704
Anna Oberg, Investor Relations Manager, anna.oberg@uuplc.co.uk, T +44 (0) 7435 939 112
United Utilities Group PLC
Haweswater House
Lingley Mere Business Park
Lingley Green Avenue
Great Sankey
Warrington WA5 3LP
corporate.unitedutilities.com
This document contains certain forward-looking statements with respect to the operations, performance and financial condition of the group. By their nature, these statements involve uncertainty since future events and circumstances can cause results and developments to differ materially from those anticipated. The forward-looking statements reflect knowledge and information available at the date of preparation of this document and the company undertakes no obligation to update these forward looking statements. Nothing in this document should be construed as a profit forecast. Certain regulatory performance data contained in this document is subject to regulatory audit.