How we listened to customers
Informing our business plans for PR19 (2020-2025)
We asked customers what mattered most to them.
From tackling leaks to simplifying bills, protecting the environment to helping customers in need, your views have come thick and fast.
But of course the real answers aren't in the words that were spoken but in the actions that follow. We're already implementing the measures and improvements you asked for.
We're listening. And we're responding. We're doing the things that you care about, because if it matters to you, it matters to us.
Read more stories below or discover more by viewing our highlights video.
Read more stories
In The Flow
In The Flow is our new online research panel, set up in October 2022. Customers are able to sign up and take part in surveys and discussions that help us better understand what customers want and value. New members are always welcome, and we'll show that we appreciate your contribution with a small reward for your time. Follow the link below to find out more and to apply to join the panel.
We're always interested to hear what our customers think about us and spend a lot of time asking for, receiving and analysing customer feedback.
We do this in a variety of ways, including setting up customer focus groups and online community panels, carrying out customer surveys face to face, over the phone and online, and also increasingly by using more sophisticated approaches incorporating behavioural economics and data science. We do all of this so that we can improve our understanding of customers preferences and so that we can communicate in a way that suits them.
Customer Insight Programme
Talking to customers provides an invaluable insight about experiences and helps us plan for the future. The chart below shows a summary of the breadth and depth of our customer research and insight. It highlights over 90 pieces of bespoke research, with the vast majority of projects providing feedback that has helped to shape our proposed business plan. The research projects are categorised by type and then colour coded to specific business area.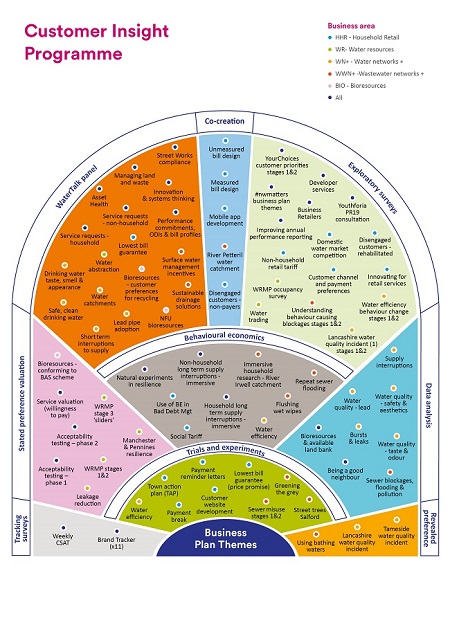 Weekly customer service research
Every week we call back a sample of household customers that have previously contacted us to find out if they were happy with the way we handled their enquiry and if they have any views on how we can make their experience better.
If we're working in your area
If we're carrying out construction or maintenance at one of our treatment works we make sure we ask customers living in the area about their experiences. Typically, we'll ask people if they found our onsite employees helpful and if we kept them up to date about our work so they knew what we were doing. The aim is to limit disruption and take on board customer ideas about how we can improve the process.
Asking customers to rate our performance
We regularly ask our customers how they think we're performing against our five year business plans and what they value most from the services we provide so that we can get their views on what areas we need to focus on in the future.
We make sure we get views from all our different groups of customers including those of different ages, genders, incomes, locations, metered and unmetered and customers who may be experiencing difficulties in their lives that's making them more vulnerable than they might otherwise be.
YourVoice customer panel
YourVoice, the independent customer challenge group is made up of independent customer and business representatives and quality and environmental regulators. It has been specifically set up to gather feedback about our performance as a company.