We are really grateful to our customers acting as 'leak spotters' helping us to find and fix leaking and burst water pipes. This isn't always as easy as it seems, so we have a process to fix leaks and it often looks like this:
Reporting - the leak spotters
Thank you very much if you've reported a leak already. If you haven't, reporting a leak is really easy, so if you spot one – please do let us know.
You can call our leakline number on 0800 330 033, fill in our online form or let us know via the UU app. You'll be asked to give as much information as possible about the leak so that we can book it in for repair.
Recording - the leak schedulers
The leak is booked in and prioritized based on a number of factors. These factors include the amount of water being lost and if it's affecting customers' water supply. We try and get the big leaks get sorted first!
Investigating – the leak detectives
The information collected so far is sent to our leakage teams, who will visit the site of the leak to investigate. This involves checking where the leak is coming from and the type and urgency of the repair.
They will also decide what needs to be done so we can fix the leak safely - such as traffic management, what equipment they'll need for the repair, and if customers will be without water while the repair is done.
Planning the repair
Our planners check how many customers will be affected – as they may need to turn the water off to carry out the repair or work on the pathway or road near to homes.
We look at the scale of the work and if the leak or burst is large, how we best manage the impact on customers at home, businesses and people commuting to work. We may also have to re-zone our network, which basically means working out a way to bring water in from another part of our pipe network or use our water tankers to pump water into the area while we make the repair.
Repairing the pipe
Our team of engineers are sent to fix the pipe, which will involve turning off the water and digging up the road or footpath. Once the repair is completed, we'll turn the water back on, fill in the hole and repair the road or footpath.
Sometimes it can take a few days to put things back, and any repairs to the road surface may take longer as we need to liaise with local authorities.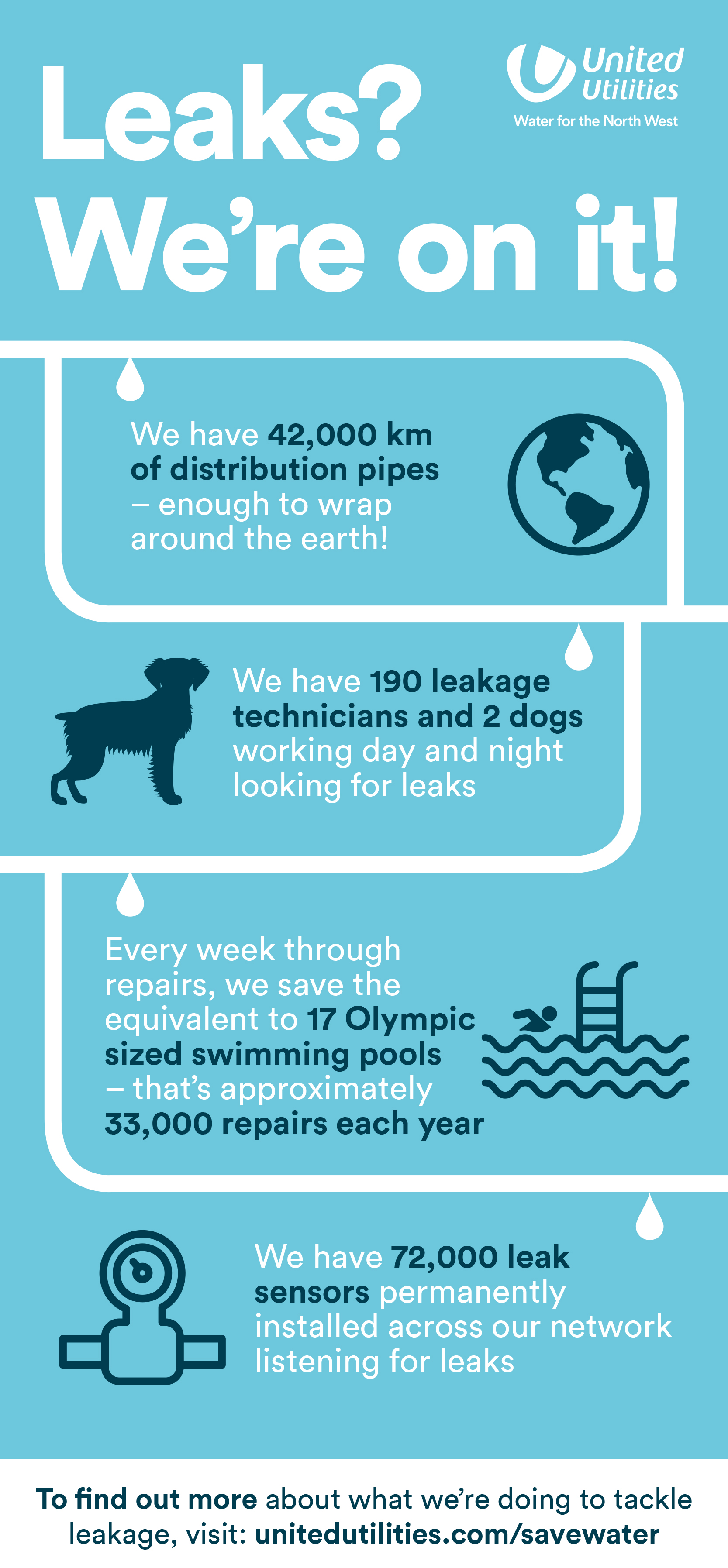 Take a look at what we're doing to tackle leakage in the video below!
Leaks? We're on it!
Find out what we're doing to tackle leakage across the North West.