Many older properties, particularly terraced houses, are served by a common supply pipe. This pipe provides water to a number of houses from one single connection to the water main.
These supply pipes are often made of lead and are often too small for the water needs of modern kitchens and bathrooms. If you are on this type of system, you might notice that your water pressure is poor and is affected when your neighbours use their water.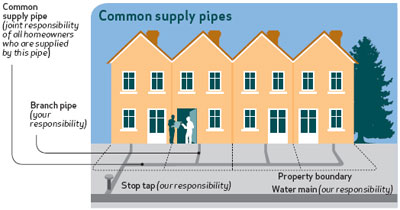 We are responsible for the communication pipe from our water main to the boundary of the street where our main is. Common supply pipes are the joint responsibility of each property fed by the communication pipe. You alone are responsible for the branch pipe which brings water from the common supply pipe to your home or to your outbuilding.
If you have a lead common supply pipe, you may be eligible for our lead replacement scheme. If you're eligible and accepted onto the scheme we will:
provide a new connection to our water main
lay a new length of pipe from our main to the boundary of the street where our main is
These services are offered free of charge by United Utilities subject to acceptance onto the lead replacement scheme.
Before applying for the scheme, you need to think about what you must do - especially as you will need to pay to replace the lead pipes you are responsible for.
What do I have to do?
You or your plumber will have to lay a new separate supply pipe from your house to the boundary of the street where our main is. You will also have to do any necessary work to the plumbing inside your property. We will advise you where and how to lay your new supply pipe.
When this work has been done, you need to contact us to arrange for one of our inspectors to check the work. This is to make sure the work meets the Water Supply (Water Fittings) Regulations. There is no charge for this service. Please give us at least three working days' notice and make sure that you or your plumber are present at this inspection. Our inspector will give you or your plumber a 'pass' or 'fail' certificate.
If the work fails the inspection, you will need to arrange with your plumber to bring the work up to standard. You will then need to ask for another inspection
When your work has passed we will arrange for the connection to be completed. We aim to do this within three to six weeks of your work passing the inspection. If there are engineering difficulties, or we have to lay a new length of water main, this will take longer
Once the new supply is connected, your plumber will disconnect the lead supply in your house and transfer it onto the new single supply
One of the conditions of the lead replacement scheme is that you arrange to have your old branch pipe disconnected from the common supply pipe. This is to protect you and your neighbours from leaks and from the risk of contamination from any stagnant water. When your old branch pipe has been disconnected, and we have inspected the work, your plumber can fill in the hole
If your re-laid supply pipe does not meet the required standards and we have to make return visits, we may charge you for the extra visits
Please note: it is your plumber's responsibility to complete your internal plumbing work to transfer you onto the new supply.
If you have a common (shared) supply, you need to arrange for your plumber to disconnect your old branch pipe. If you do not disconnect your old branch pipe as required by the Water Supply (Water Fittings) regulations, and we have to do the work ourselves, we may charge you for the work.
You are free to use any plumber to replace the common or lead supply pipe in your property. For a list of water industry-approved plumbers in your area, visit the WaterSafe website and enter your postcode.