Flood Prevention across the North West
Helping to see the bigger picture
There's around 49,000 miles of underground sewers across the North West and we want to do all we can to prevent customers experiencing the distress and inconvenience of blockages or sewer flooding - which can also have a negative impact on the environment too.
We're really moving forward with an innovative way to monitor and manage the sewer network across the North West. We're planning to install over 20,000 sensors at key points on the sewer pipes across our region, providing live information back to our teams so we can monitor, identify and resolve any issues quickly - in many instances before they become a bigger problem.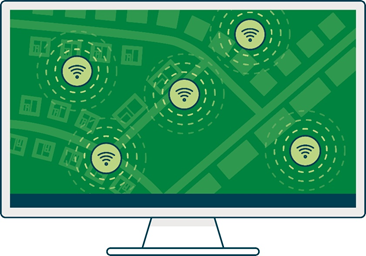 Surveys: We've identified locations we think would be suitable to install a sensor. The majority are on the road or within publicly accessible locations, but we may need your help if a manhole we would like to survey is located in your garden or driveway.

We will always contact you to ask permission and you don't have to be at home when we visit, unless of course you want to and we'll happily make an appointment. The survey isn't disruptive and won't take long as our team simply open the manhole lid to take a closer look.

Installation: If the manhole location is suitable, we'll then plan a date to install the sensor. There's no digging or noisy machinery and it normally takes just a few hours and that's it! The sensor will help us to protect your community and the environment too.

We may need to carry out occasional maintenance or checks, but other than that you wouldn't even know the sensor is there.

We're covering lots of areas across the North West and teams are already carrying out surveys. The plan is to have all 20,000 sensors installed by the end of 2022.

You can continue to wash, flush…carry on as normal. Don't worry, during the survey, installation and after the sensor is in place you will still be able to use all your existing appliances or facilities that take away the used water from your home or business just as you usually would.

In most instances nothing at all. Most of the manholes are on the road or in public areas, so the team can carry out the work with no disruption. However, we may be in touch if we need access to a manhole on your property. We'll always let you know in advance either via email, a phone call or a letter, dependent on the contact information we have for you.

If you have any queries about our work and need to get in touch via our social media channels, you can complete our feedback form or if you prefer, please give our friendly team a call on 0345 672 3723 and quote project number 80041719. We'll be happy to help.

We are letting our customers know what we are doing in the area so you may have received a flyer (1.4MB PDF opens in new tab). Don't worry you don't need to do anything, it is purely for information in case you see us, or our contractors Sapphire Utility Services or Detectronic, out and about opening up manholes in your area.

If you have received a flyer that asks you to call us ASAP (such as the following pictured) and want to check that the number to call our contractor Sapphire Utility Services on 01772 584900 is legitimate, we can confirm that it is.

Our sorry we missed you card (1.9MB PDF opens in new tab).

Or the urgent red header card (105KB PDF opens in new tab).

Sapphire Utility Services work on our behalf to survey, install and maintain the 20,000 sensors we are placing in manholes across the North West.

If you have received one of the 'Sorry We Missed You' cards from us, please do call us as soon as possible, as we really need access to the manhole on your property.

As we explained to you when we installed the sensor, this is part of a big project that we're working on, which will help us discover any potential issues in the sewers before they become a problem. This means we can reduce the risk of flooding or pollution from the pipework we are responsible for.

In terms of ongoing maintenance of the sensor, you won't see us very often - in fact you may only see us once a year, or less in some cases.

The maintenance of the sensors will be a simple straight forward check inside the manhole to ensure it is working as it should. If there are any issues with the digital sensor we will hope to resolve them as quickly as possible there and then.
We will contact you to book an appointment in advance of carrying out any maintenance work required each year, so you don't need to do anything.
If there is an issue that requires more urgent attention, such as an alert from the monitor, we will notify you to arrange access if required.

Although we're making improvements and working hard to keep the North West's sewer network in tip-top condition, problems in the sewers can often be caused by flushing wet wipes down the loo or pouring fats, oils and grease down the sink. To find out more about what you can do to help Stop the Block! take a look at the information and advice.