Lives are being lost every year when people go into waters not suitable for swimming.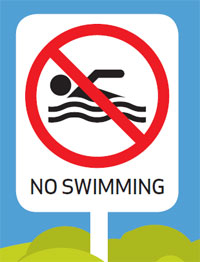 Many of our reservoirs are located in beautiful surroundings, and we want you to be able to enjoy them. But we can't stress enough the importance of keeping out of reservoir waters.
Every year, particularly during summer, people are risking their lives by 'taking a dip' in reservoirs. But reservoirs, lakes, rivers and other bodies of open water can be deadly. Freezing water, hidden debris, and underwater currents from pipework, mean that they are extremely dangerous.
Our countryside rangers and North West Air Ambulance paramedics see the dangers every day, like the dad teaching his young son how to 'tombstone' into icy water, teenagers celebrating the end of term by diving off water towers and families letting children go out alone on cheap inflatables. You can hear from a North West Air Ambulance paramedic talking about the reality of reservoir rescues and how it's often difficult to reach these remote areas. And in this sobering interview, mum, Beckie Ramsay, talks about how she tragically lost her son, Dylan, when he got into difficulties while swimming with friends in open water. Despite being a strong swimmer, the cold water on a hot summer day proved fatal.
Beckie said: "It was hard doing the interview for the film, it always will be. But if hearing about Dylan's death means that one less young person will be tempted to go into the water this summer, then it's worth it. People need to be aware of the danger".
Even if it's a scorching hot day, and even if the water looks calm and shallow - please stay safe and stay out of reservoirs.