Sewage flooding in your home or garden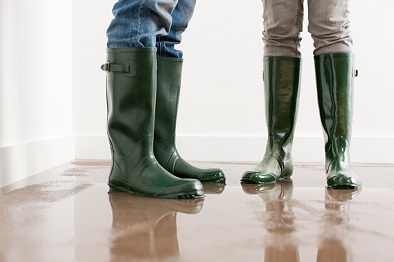 If you've been flooded by sewage inside or outside your home, we understand this is a distressing and anxious time.
If you haven't already done so, you can report flooding to us as soon as possible by calling us on 0345 672 3723 or clicking the "report a problem" button below and we'll send a team to help with the clean up.
What clean up services do we provide in the occurrence of sewer flooding?
If you have flooding inside your property, we will:
Remove flood water
Collect and remove solid waste
Clean and disinfect all areas affected by the flood with the exception of carpets, furniture or curtains
If you have flooding outside your property, we will:
Remove flood water
Collect and remove solid waste
Wash and disinfect any patio or hard-standing areas
Unfortunately, we're unable to clean up waterlogged garden areas, since these must be allowed to dry thoroughly first.
We will help with the clean-up of the public highway if this has been affected by the sewage flooding incident.
It's important to us that you stay safe, so please also take the following precautions to protect you and your family:
Do:
Give your insurance company or landlord a call straight away

Wash your hands after being in contact with flood water

Wash clothing and fabrics at or over 60 degrees to destroy any harmful bugs

Dry all affected areas thoroughly.
Inside your property, use heating and good ventilation, as this will help with the drying process

Arrange for fabrics or soft furnishings which cannot be washed to be professionally cleaned or disposed of.

Throw away all food that may have come into contact with floodwater – including tinned food.

Keep open cuts or sores clean and covered up at all times
Don't:
Eat any food which may have come into contact with floodwater

Smoke before you've washed your hands

Eat before you've washed your hands

Let children or pets go near floodwater

Or any grassed or paved areas until they are restored to their normal condition. Sunlight and soil help destroy harmful bacteria.
Eat garden vegetables covered by floodwater

Leave undamaged vegetables in the ground for at least 2-3 weeks and only use after thorough washing and cooking.

Try to clean waterlogged garden areas or dig over contaminated soil; leave the sewage residue to decay naturally.
Other things to consider to keep safe after flooding has occurred
If your gas meter or appliance has been submerged, contact the British Gas emergency number before switching on or lighting any appliance.
If your electricity meter, fuse box, socket or appliance has been submerged, contact your electricity supplier for advice before using any electrical equipment.
Please be assured, we investigate the cause of sewage flooding following all reported incidents.
If sewage flooding enters your home we automatically refund your sewerage charge for the year (minimum payment £150 up to a maximum of £1,000 per incident).
In addition to this sum, we will automatically pay you up to £100 for the disturbance the sewage flooding causes. We will determine the amount payable on a case-by-case basis.
For more information, please see our standards of service (PDF 2.6 MB opens in a new window).
As a guide to the number of days you should leave your garden before cleaning up, please see the table below.
| Season | Turf/clay (days) | Soil/sand (days) |
| --- | --- | --- |
| Spring | 13 | 20 |
| Summer | 6 | 9 |
| Autumn | 13 | 20 |
| Winter | 18 | 11 |