It's not something you probably sit and think about every day, but there are three different types of drain that take water and wastewater away from your home.
Foul (wastewater) drain – this is where the used water from your toilet, dishwashers and sinks should go. From your drain, it goes to a wastewater treatment works where it's treated so it can go safely back into our rivers and the sea.
Surface water drain – when it rains, the water falling on buildings and pavements has to go somewhere. These drains take rainwater to rivers and the sea, as it doesn't need to be treated.
Combined drain – these are usually found in older properties where the foul water and surface water go into the same drain, which is then taken to the wastewater treatment works.
Your appliances, such as your toilet, showers, washing machines and dishwashers, should be connected to the foul drain, which takes the dirty water away for treatment. If, however, they've been connected to the surface water drain, the dirty water goes straight into local streams, rivers and eventually the sea.
You might be surprised to know thousands of homes across the North West are unknowingly misconnected in this way, and that's where you, as the homeowner, could face the risk of a big bill to put this right, together with being prosecuted and fined up to £2,500 if you don't do anything about it.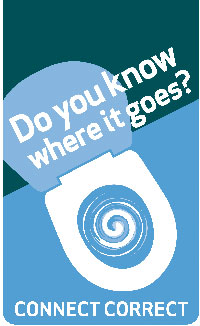 Is there anything you can do right now?
It is always a good idea to check that your loos, showers, washing machines and dishwashers are all plumbed into the right drains.
The diagram below shows how your drains should look. If they don't work like this, you may be wrongly connected.
You can check your drains are properly connected by visiting Connectright website.
We work jointly with the Environment Agency to combat the issue of misconnected household drains. Once a contaminated outfall has been discovered - that means where foul water is going where it shouldn't - the pollution can be traced back to specific properties.
Make sure your drains are connected right - use our handy leaflet to find out more (PDF 3,957 KB opens in a new window).