Improving our bathing waters
Over the last 25 years we have spent £1 billion improving the region's bathing waters. It has involved engineering on a massive scale, bringing sewage treatment for the first time to Blackpool and Fleetwood, upgrading treatment processes at towns across the region and storing vast volumes of storm water with schemes like the Preston tunnel project along the River Ribble.
We're investing a further £250 million by 2020 to do our bit to make sure that bathing water quality can keep getting better and better.
Here is a selection of some of the work we've recently completed and other activities which are still ongoing across the region.
Allonby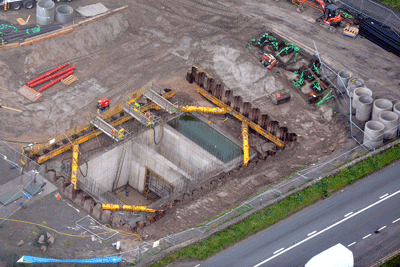 Our £4.5 million project at Allonby wastewater treatment works in Cumbria was completed in April 2016. We increased the capacity of the plant by building additional treatment units which now reduces the number of storm spills in severe weather.
Hagg Lane, Carnforth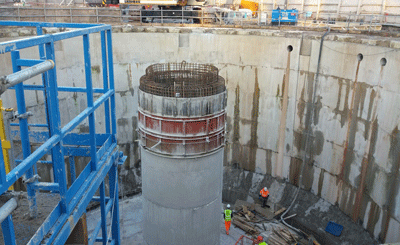 In April 2017 we completed a £7 million project which will help improve bathing waters at Morecambe. The 15-month scheme has involved building a new underground storm tank to reduce sewer spills into the River Keer, which eventually feeds into Morecambe Bay.
Chorley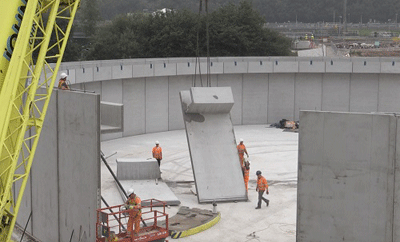 Our two-year £14 million project to upgrade Chorley Wastewater Treatment Works was completed in April 2017. By increasing the capacity of the works and upgrading the process, the quality of treated wastewater we now release to the River Yarrow is improved. This in turn carries cleaner water into the River Douglas, the River Ribble and out to the Fylde Coast, bringing benefits for shellfish beds as well as bathing waters.
Anchorsholme Park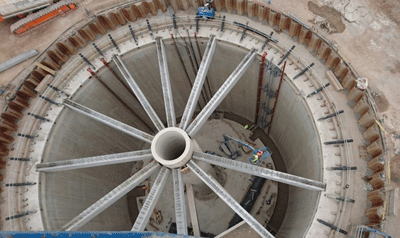 A new 12,000 cubic metre storage tank was completed in April 2016 at Anchorsholme Park in North Blackpool which is helping to reduce storm spills on the Fylde Coast. During heavy rain it holds back the equivalent of 12 million seaside buckets, or 5 Olympic-sized swimming pools.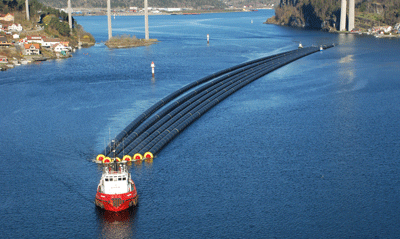 The second phase of work at Anchorsholme is now under way. We are increasing the length of the outfall from Anchorsholme pumping station, which will take storm flows far enough out to sea to prevent it affecting bathing water quality and shellfish waters. The new outfall pipe has been transported by ship from Norway to the coast of Ireland and it will be installed at Anchorsholme. You can find out more about the Anchorsholme project here.
Blackpool South Strategy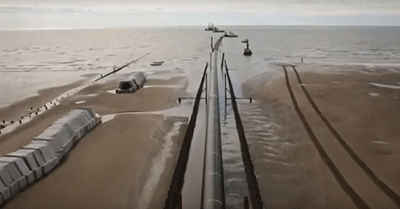 In 2015 we completed the first stage of the Blackpool South Strategy with the replacement and improvement of the Harrowside outfall pipe off the Blackpool coastline (in front of Blackpool Pleasure Beach). This new, longer pipe will be able to deal safely with larger flows of storm water one kilometre out to sea. The second phase of this scheme is now under way in Blackpool South where we are separating large volumes of rainwater and groundwater away from the combined sewer system. This clean water will then be redirected to the new Harrowside outfall pipe for discharge straight to sea. By removing these historic drainage flows we we will free up capacity in the Fylde Coast sewer system, reducing the likelihood of dilute sewage spilling into the sea. The new rainwater sewers will be constructed throughout 2017, and a new storm water storage tank is being built at Fishers Field. The project will be finished by 2018, ahead of next year's bathing water season. Read more about our Blackpool South project here.
Morecambe
Earlier this year, we began a £70 million scheme to further improve bathing waters at Morecambe Bay. The aim is to build two large storm water storage tanks and new pumps at Schola Green Pumping Station, upgrade Morecambe Wastewater Treatment Works at Middleton and lay a new 7km sewer pipe between the two sites. This major project is due to be completed by 2020. Find out more about our work in Morecambe, here.
Coastal Modelling Project
We have just completed a £4.4 million study which will help us understand in the greatest detail ever how our wastewater network can affect bathing water quality. We have spent millions of pounds over the past 30 years reducing the impact of our sewers on bathing water quality, tackling the big issues first. Now, with our wastewater network being 30 per cent of the problem, we are focusing on the smaller issues and working out how we can solve them. We've taken thousands of samples along the entire North West coastline. These samples are being used by computer modelling experts to identify where our sewers could be improved to prevent pollution during heavy rain.
River Ribble and Wyre Tidal project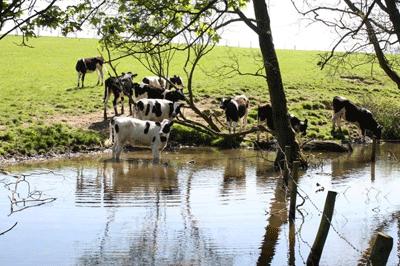 We have contributed £1.5 million to kick-start an initiative working with the Ribble and Wyre Rivers Trust, Natural England and the National Farmers' Union. This will provide better understanding and focus on the other sources of pollution which also have an impact on bathing water quality across the Fylde peninsula area.
In particular, the project aims to reduce pollution coming down the Ribble and Wyre estuaries from 30 priority farm properties. With the assistance of the Rivers Trust, other sources of grant funds are being obtained to support this exercise and the scheme is now attracting a lot of interest from the farming communities. The roll-out of farming interventions has already started and will continue up to 2018 and beyond with the support of further grant funding.