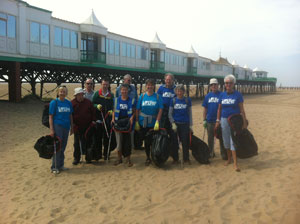 We have joined forces with the Environment Agency, Keep Britain Tidy, the Marine Conservation Society, local authorities, British Destinations, and the National Farmers' Union on the LOVEmyBEACH campaign.
The partnership was officially launched at a summit held at the Winter Gardens, Blackpool, in September 2012, and the campaign urges people and organisations across the North West to get behind efforts to improve the quality of bathing waters.
The partnership's aim is to reach the best standards possible for the region by motivating everyone to take action which will reduce sea pollution.
What have we at United Utilities done since the campaign began?
Carried out checks on parts of our network that can have an impact on bathing water quality before the bathing season begins
Introduced a real-time system where people who want to use beaches can check our website first to see if there have been any recent spills from our sewage system into the sea
Launched Think before you pour and Think before you flush campaigns, advising customers how to dispose of fats, greases and personal hygiene products. This helps prevent blockages that can lead to flooding, releasing sewage into nearby watercourses and into the sea
Spent more than £4 million on a coastal modelling survey, which will help us pinpoint where our wastewater network can be improved to prevent pollution
Big improvements have been made to coastline waters over the past two decades, but new EU legislation is raising the bar - almost doubling standards - so we need to continue to work together to look at different ways of cleaning up the Irish Sea and the rivers that flow into it, such as the River Ribble.
Want to play a part? Visit the LOVEmyBEACH website to find out more.