Public access around Thirlmere
Important safety notice: Updated 29/11/2022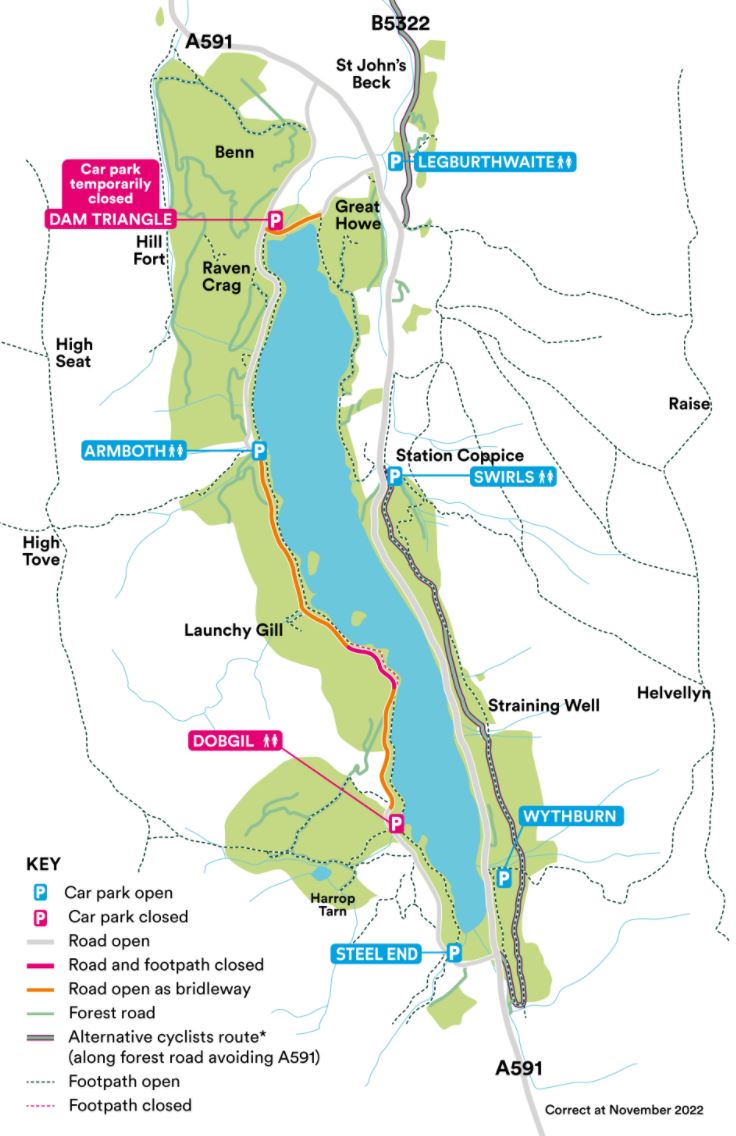 Why is a section of the west road and lakeshore path closed?
Following several storm events, the Thirlmere catchment has experienced extensive damage leaving fallen trees and unstable slopes in many locations around the estate. Our team and specialist contractors have worked hard to carry out complex tree recovery and slope stability work as well as repairing associated damaged walls, paths and tracks.
We now have over three miles of the west road fully open for everyone's enjoyment and around a mile open with restricted access available on foot or bicycle only.
Sadly, there's still a half mile section of the road in the middle that we're unable to reopen for any access and therefore this prevents anyone from completing a full loop around Thirlmere. This section has suffered severe damage to a rock face, known locally as Rough Crag. The crag is around 100 metres in height with a 60 metre face sitting directly above the west road with no buffer between.
A number of mature trees growing from the crag were blown loose during the storms with the root plates lifting and dislodging the rock face behind. Some material has fallen down the face and onto the road, but a significant amount of loose material is still suspended directly above the road which presents a major risk to the public.
When will full access be available?
Working with Cumbria County Council who own the highway, we have surveyed the full extent of the crag with a drone and camera which has shown that there is much more material waiting to fall down. We have engaged specialists to carry out further assessments, this will help to determine the most appropriate long-term solution so that safe access around Thirlmere can be made available.
It's been agreed with Cumbria County Council that this section of road will remain closed until we are both satisfied that the area is safe for vehicles and the general public.
Current access
We do understand that being unable to access the full Thirlmere loop is disappointing, but safety is of utmost importance and we're working to establish the most appropriate solution to allow safe access as quickly as possible.
Dobgil car park is temporaily closed to help support work by Lake Disrict National Park Authority during their Fix the Fells project and also for our teams carrying out tree clearance activity.
If travelling from the south along the road on the western side of Thirlmere, access is available up to Steel End car park and up to Armboth car park from the north. The section between will not be open for through traffic, pedestrians or cyclists.
An alternative cycle route to avoid using the A591 is available, but extra care should be taken as this is a rough forest track and not suitable for road bikes. We understand how frustrating these closures are for the local community and visitors and thank you for bearing with us.
Please observe safety signage if you're visiting Thirlmere and we're continuing to work as quickly as we can to safely open areas for your enjoyment.
Thank you for your cooperation.
​

Thirlmere is an incredible place to visit. Keeping our visitors and staff safe is a priority. Of course we encourage people to enjoy our recreational sites, but please do so responsibly.
Please park responsibly and think of other sites you could visit in case it is busy when you arrive.
No swimming. Our sites are often in picturesque but remote locations. They may look inviting, but the water is extremely cold and hides sudden drops. Keep safe and Keep out.
Please take your rubbish home with you.
No camping, fires or BBQ's are allowed.