Meet Shahbaz, our process controller
Shahbaz is enjoying the variety an apprenticeship brings. He's developing new skills and says he's proud to work for a company that values diversity and inclusion.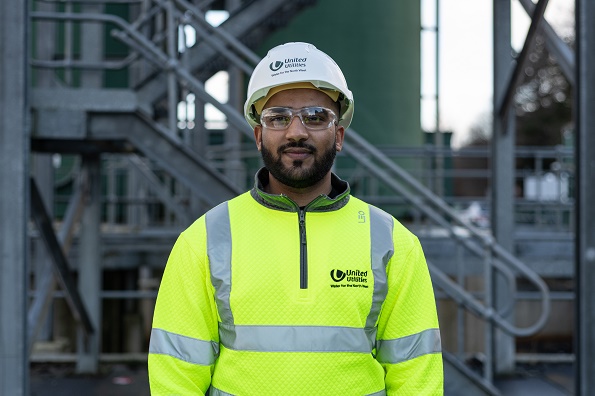 How did you find your apprenticeship? And how was the application process?
I found out about United Utilities apprenticeships through a recruitment agency called The Launch Group.
The application process was a smooth and simple process which was clear to follow reducing the potential risk of any mistakes.
What attracted you to the position?
The opportunity to work for a large company like United Utilities was too good not to pursue. Having previously worked for smaller companies where working conditions and health and safety were not paramount, United Utilities appeared to put a lot more focus on their employees which I found to be very commendable.
The process controller role was very appealing as there is a multitude of different tasks to be completed where no two consecutive days are the same. Also knowing that I have contributed in the production of a vast amount of wholesome water for the surrounding areas I know would have given me a sense of pride in my job.
How did you find the recruitment process?
All the information provided was clear and easy to follow.
Throughout each stage of the recruitment process United Utilities kept me well informed about what was expected and what to expect next.
What advice would you give to somebody applying for the apprenticeship scheme?
I would advise anyone looking at applying for United Utilities apprenticeships in the future to carry out as much research as possible into what United Utilities does as a company. Find out about each individual job role (there are hundreds of different roles so find out the specifics about the role that interests you).
Don't hesitate to contact the company before applying to find out as much as you can about the roles. This will only benefit you in the application process. United Utilities is like a family where everyone is willing to help each other, so if someone can offer you any advice, tips or information they will be happy to help.
If somebody was debating between starting an apprenticeship or going to university, what would your advice be?
I would recommend an apprenticeship. With an apprenticeship you will be put through the relevant qualifications for the roles. You'll also gain long-term support with a personal development plan which gives you the opportunity to undergo any further education all whilst working for the company if that's the path you choose to go down.
What is your favourite thing about your current role?
I enjoy the process controller role as no two days are the same. All of my colleagues have made me feel very welcome, I feel part of a team which are very supportive and are willing to help me out with whatever I need. No job or question I ask them is too big.
Anything else that you would like to share?
From my first day I have always felt welcomed and part of a large extended family. The company's stance on diversity and inclusion is amazing to see and be part of.
At United Utilities I believe they don't just listen but they actually hear what issues are being raised and they act positively to make everyone feel included. It's a small example but when I am on my training courses and dinner is provided, I'm offered a halal pack lunch so I do not miss out.