Meet Megan, our digital optimisation officer
Megan joined United Utilities five years ago as a customer service apprentice. After getting experience in different departments during her training, she discovered her dream career working in digital.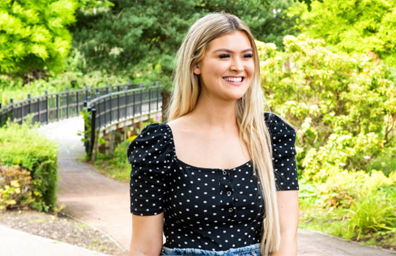 "I started my apprenticeship when I was 17 – I'd left college after a year as I really didn't enjoy it and saw the opportunity to be a customer service apprentice at United Utilities. I really liked the look of it as you got experience in different parts of the business.
"The first year of my apprenticeship involved being on the telephone in the customer service department dealing with queries, as well as responding to written correspondence from customers. I learnt so much from doing this and being on the phone really built my confidence.
"I also went out on the road with the water and wastewater team to see how we tackle problems like unblocking drains. It was a great opportunity to see the other side of it.
"Then I moved to the digital and communications team where I helped with the United Utilities website, app and social media. It was a great experience and I was given lots of training so I quickly improved my skills – going on to secure a permanent position here.
"During my apprenticeship I completed an NVQ Level 2 in customer service and when I started in the digital department and realised it was my dream career, I went on to study for a digital marketing qualification alongside my apprenticeship.
"Without this apprenticeship and having the opportunity to try out different roles, I never would have considered a career in digital. It's been the best decision I have ever made and I love how varied my job is.
"I'm the first person in my family to not go down the traditional university route. My mum and sister both work at United Utilities and went to university first. At first my family were keen for me to go to university, but they are so proud of me now after seeing what I have achieved.
"My aspiration is to work my way up in the digital team and I also have the opportunity to do a degree around my job. My next step is to do the aspiring management course that will give me the skills and confidence to progress to a digital optimisation manager."