United Utilities Innovation Lab
The United Utilities Innovation Lab is a unique opportunity for innovative businesses to collaborate with us, helping to tackle key business challenges.
Watch our video to find out more about our Innovation Lab
About our Innovation Lab
The 10-week programme provides successful applicants with the opportunity to test their solutions in a live environment, while gaining access to and building relationships with senior United Utilities executives, with the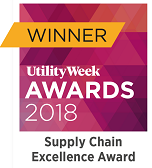 potential to lead to longer-term commercial partnerships.

This year we're keen to hear from innovative companies with solutions to the different categories which are outlined here. Each category is focused on developing our Systems Thinking plans to better serve customers and ensure our colleagues have everything they need to deliver.
What's on offer?

Mentorship from United Utilities senior leadership
Product validation
from United Utilities
stakeholders and customers
Co-location and testing
in a live United Utilities
centre environment
A network of
external mentors
with diverse
market expertise
Opportunity to gain investment


Innovation Lab FAQs
If you need more information relating to our Innovation Lab, please read our FAQs
Our next stage is Pitch Day.
We will soon be approaching Pitch Day, please have a look back at last year's pitch day.
Updates from the Innovation Lab
About our partners
L
Marks are innovation specialists and early-stage investors. We work with some of the worlds' best-known brands, including, BMW Group, Lloyd's of London, Arsenal F.C., and EDF Energy to identify the challenges in their business and create bespoke partnership and scouting projects.

Founded in 2012 by serial entrepreneur Stuart Marks, and led by Chief Executive, Daniel Saunders, L Marks builds bridges between corporates seeking to innovate and young companies looking to scale with disruptive tech and systemic guidance. We help nurture these opportunities for improvement into innovative solutions to sustain the future longevity of business. For further information, please visit www.lmarks.com.