Increasing and enhancing the sewer network at Anchorsholme Park
We've been busy here at Anchorsholme Park. And we're staying that way right up to 2020 in order to make sure Blackpool's waters are up to standard.
We've completed the first phase of our scheme (which took about 18 months), to build a huge underground storage tank that can hold the equivalent of 12 million sandcastle buckets, or five Olympic-sized swimming pools, of storm water! During times of heavy rain, these tanks will stop 12,000m3 of untreated storm water going into bathing waters along the coast by storing the excess water until we can put it back into the network and treat it.
We are now working on the bigger phase of work: building a new storm water pumping station to replace the existing station on the promenade. New structures will allow us to screen and control what flows through the new pumping station and we are also laying a new extended outfall pipe, which will discharge the excess screened storm water out to sea.
This investment in Anchorsholme Park will store storm water to a higher standard - meeting new bathing water regulations and improving overall bathing water quality across the Fylde coast.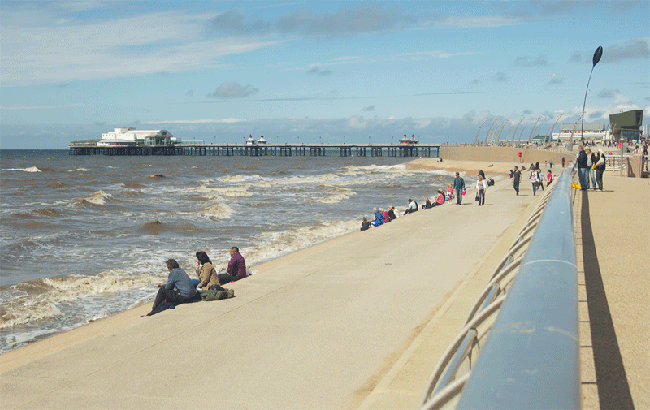 Park closures and public safety
This is a big project and involves lots of construction work and big machinery, not to mention some rather large holes. The safety of the people who use the park is really important to us so we need to keep areas of the park closed in order that we can carry out our work without putting members of the public in any danger. We are also using the site to store the materials we need and the soil we have dug up so we can use it later on to redevelop the park and improve facilities. Please check below for latest updates and closures information.
Keeping the community updated
We've held several drop-in sessions to speak to local residents and users of Anchorsholme Park about what we're doing, and we're continuing to work with Blackpool Council and other key organisations to keep them up to date on on our plans and progress.
Updates and closures
Outfall pipe: being laid this summer.
Park closure: we have extended our fencing to cover the full boundary of the park, and the park will be closed until the end of the project.
Bowls club and pavilion: the bowls club has relocated to a temporary facility next to the bowling green, and the council maintenance pavilion has been removed.
Footpath diversions: the footpath trail that ran through the park is closed for safety reasons, as it is now within our working areas, and will remain closed for the duration of the project.
Noise and vibrations: we're using large construction machinery at the site, which generates noise and vibrations. We're doing all we can to keep this to a minimum and have monitoring devices to keep a close 'ear' on this. We are keeping residents updated and providing advance notice of any activities that will be particularly noisy.
Customer drop-in centre: We have a dedicated customer centre for the duration of the project which can be found on Princes Way. Opening hours will be posted outside the centre. Please pop in to discuss any concerns, or to find out more about our project.
If you have a question and would prefer to call us, please ring 0345 672 3723 quoting project number C2V+ 80040279 phase 2. We'll be happy to help.